The positive, speedy and sincere support of "Team Yokohama Arena" will ensure your event is a success.
At Yokohama Arena, all our staff work together to support our users.
Yokohama Arena, which delivers a variety of proposals, the Stage Office, which specializes in stage related events, the Lambda Management Office, which operates the movable audience seating system, the Disaster Prevention Center, which manages the facilities and equipment, and all other related staff together form "Team Yokohama Arena".
Making use of their extensive track records and wealth of experience, all members of the team will always act in good faith to provide positive and speedy support.
As a result, the holding of events where safety and peace of mind come first, and a state-of-the-art stage that continues to evolve, can be achieved.
With our support system that gives peace of mind to all our users, Yokohama Arena will continue to deliver great "dreams" and "excitement".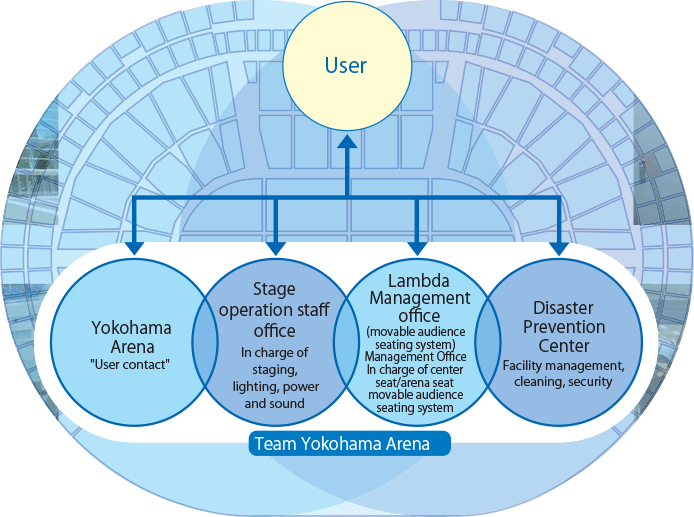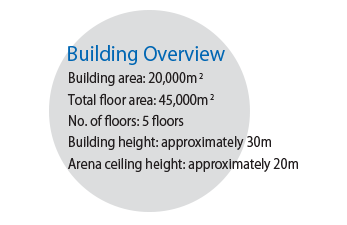 ■ Main Arena
● Arena floor area of approximately 7,619m2
● Features a computer-controlled movable audience seating system (around 10,560 seats)
● Maximum capacity of 17,010 persons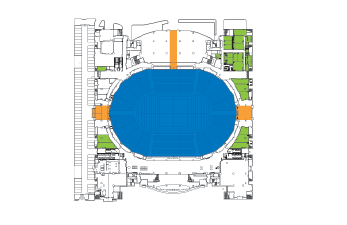 First floor
■ Dressingrooms
● Total area of approximately 1,169m2
● Total of 11 rooms (up to a maximum of 22 rooms when divided)

■ Carry-in entrances
● Height of main Carry-in entrance is 4.2m
● 11t vehicles (up to 4t in certain areas) can enter main arena from Carry-in entrances on both sides up to the fixed passages (not including the large warehouse)

■ Parking lot
● Parking for 73 vehicles
● Private and public parking available nearby
■ Arena Shop (1 location)
Second floor
■ Centennial Hall
● Area of approximately 738m2
● Depth 19m, width 36m, ceiling height 6m
● Accommodates 600 in theater configuration and 304 in classroom configuration
● Lighting dimming possible
● Motorized battens and hanging hooks available
● Numerous loaned equipment available
(Such as desks, chairs, sound systems, stage systems)
● Pantry, front chamber, dressingroom

■ Second-floor lobby
● Area of approximately 4,846m2
● Arena Shops (4 locations)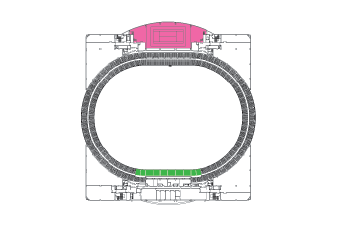 Third floor, Fourth floor
■ Suites and boxes (Third floor)
● 2 suites (2 rooms for 10 persons), No. of seats: 20 seats
● 8 boxes (4 rooms for 12 people, 4 rooms for 18 people), No. of seats: 120 seats Conference room
● One room each on the third and fourth floors
(Can also be used as an Dressingroom)

■ Sub-arena (Fourth floor)
● Area of approximately 1,036m2
● Depth 34m, width 22m, ceiling height 7m
Sound system:
● Changes to arena configuration are handled by computer, ensure a good sound field ● Uses a pattern preset system ● Full digital mixing console (Input 56ch, Output 72ch) ● 43 directional powered speakers

Lighting system:
● Average brightness 2,200lux, Center brightness 3,700lux ● Dimming pattern memory features are also extensive

Hooks for hanging objects:
● 600 hooks installed at 3m intervals over entire ceiling area ● Load-bearing capacity per hook: 1t — 9t ● Safety management system that employs a suspended-load check system ● Catwalks that stretch lengthwise and crosswise across the arena ensure excellent workability and safety

Floor and wall hooks:
● Numerous hooks, each with a load-bearing capacity of 5t, are installed in the floors and walls of the arena

Lighting deck:
● Equipped with a lighting deck that allows free placement and moving of large pin spotlights on the ceiling ● Heavy items can also be easily brought in and taken out via the large elevators and lifts

Power supply equipment:
● Separate large-capacity, stable power supplies for the sound, lighting and power (sound capacity 300KVA, lighting capacity 1,000KVA, power capacity 500KVA) to accommodate all kinds of events ● In addition to the venue power supply, there are cables for power supplies and power supply vehicle panels brought in by the customer

Signal system:
● Signal cables that stretch around the hall support any kind of production ● 8 wired intercom lines (wireless intercom available) ● For audio and video, cables such as 16ch, XLR and BNC are installed.

Telecommunications system:
● It is possible to connect up to a total of 500 temporary telephone lines (requires installation by NTT) ● Wireless local-area network is available in some parts of the first-floor Dressingroom area and in the third- floor suite box area ● Fiber-Optic Internet Installed in all dressingroom, third-floor conference room, fourth-floor conference room, Centennial Hall, first-floor front lobby, lobby in front of the second-floor Centennial Hall, south and west ticket offices and community space

Water supply and drainage equipment:
● Installed in a total of 24 locations within the venue — in the floors, walls, audience seating area ● Two water supply outlets per location (20Ø) and two types of drain — 50Ø and 100Ø